Dey Young began sculpting in 1977 at Scripps College in Claremont, California, learning her craft under the tutelage of renowned sculptor, Aldo Casanova. Dey continued to evolve gaining valuable experience from a number of teachers and artists throughout the US. Her vocational drive took her to Italy where she expanded her talents, working in Carrara marble with Italian artisans. Dey's understanding of anatomy is self-taught and she considers it a gift. In 2006, four of Dey's pieces were selected as Los Angeles County Museum's Special Projects and exhibited on the Art and Architecture Tour. This honor was again bestowed in 2012. Her work was also selected in 2011 by the National Sculpture Society to be featured online in their LOVE exhibition.
Dey Young works in stone, terra cotta, bronze, cement and acrylic and has been enthusiastically received by many fine art galleries including: Galerie Michael, Beverly Hills, Gallery Milmar, Carmel, Ca., Earl McGrath Gallery, Los Angeles, Janine Contemporary, Santa Fe,NM, Alexander Salazar Fine Arts Galleries in both San Diego and La Jolla, Ca.; the Mary Titus Gallery, Carmel, Ca. James Gray Gallery and ArtLA at the Bergamot Station Arts Complex in Santa Monica, CA.
Her sensuous forms have been described as "possessing an effortless sense of movement, embodying spirit and emotion and representing a nod to the past as well as an embrace of the future." Dey is an artist of immense passion and talent and is proud of her creative achievements represented in both the beauty of her sculpted pieces, as well as, her successes on stage and screen.
Dey currently resides in Los Angeles, California. She is a member of the Art Museum Counsel at LACMA.

EXHIBITIONS and REPRESENTATION:
Galerie Michael, Beverly Hills, Ca. 2015 to present
Gallery Milmar International, Carmel, Ca. 2020 to present
Mary Titus Fine Arts, Carmel, Ca. 2011 to 2020
Stone Journey -21st C.Insurance Towers, Woodland Hills, Ca.2014-15
Sculpture by the Sea, Cambria, CA. 4/27/2013, 1st pl. award bronze
Ethos Gallery, L.A., "Women in Art" group show, 2/28- 4/1/2013
James Gray Gallery, Bergamot Station, Santa Monica, CA., 2012
Alexander Salazar Fine Art, San Diego, CA., 2011-2012
National Sculpture Society, Online Love Exhibition, 10/2011- 10/2012
Mary Titus Gallery, Gratitude Show, Carmel, CA, 2011
Janine Contemporary Gallery, Santa Fe, New Mexico, 2011-2016
The Edge Gallery, Canyon Rd., Santa Fe, NM., Summer 2010
Clarke Humanities Museum, Scripps College, Genius of Women 2010
Around the Corner Gallery, Ojai, CA., 2009, 2010
The Artist's Union Gallery, Ventura Gallery, 2009 to present
Teale Street Gallery, Culver City, 2008-2010
Affaire in the Gardens, Beverly Hills, May 2007, May 2019
L.A. Farm Restaurant Gallery, 2007
Earl McGrath Gallery, 2006-2007
L.A.C.M.A. Art and Architecture Tour, 2006, 2012
L.A.C.M.A.'s "Special Projects", 2005-2006, 2012
Robert Cunningham Group Show, November 2002
University of Judaism Group Show, LA, CA., May 2000 and 2001
Commissions and Collectors list available upon request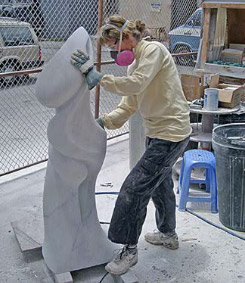 Teale Street Sculpture Studio